Pushtikar Hair Oil
A most powerful, scalp-stimulating herbal infusion, in a base of Virgin Coconut oil that arrests hair loss, stimulates growth and prevents premature graying.
100% Organic ingredients, Vegan and Cruelty-free.

Ayurvedic preparation made by Taila Paka Vidhi method.

No parabens, silicone, hexane or mineral oils.
Exciting Offers
Buy for ₹ 2499 & get extra 5% OFF
Buy for ₹ 3499 & get extra 10% OFF
Buy for ₹ 4999 & get extra 15% OFF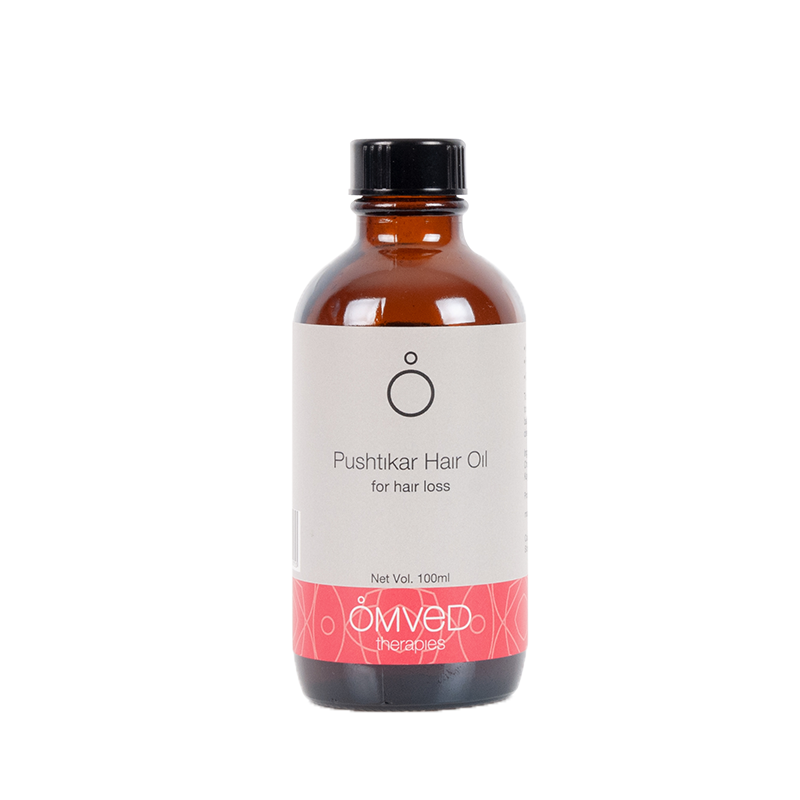 Step 1: Warm a small quantity of oil using the double boiler technique.
Step 2: Gently massage into hair starting from the scalp to ends of hair.
Step 3: Leave (preferably wrapped with hot towel) for at least 20 minutes. May also be left on overnight if desired.
Step 4: Cleanse post-treatment with your favourite Omved shampoo and warm water. Follow up with a conditioner if required.
PRODUCT PHILOSOPHY
Omved oils are prepared using classical Ayurvedic method of "Taila Paka Vidhi" under the guidance of Ayurvedic experts. Precious fresh herbs are sorted, cleaned, dried and finely ground to a paste and boiled in water for a highly potent extract that is added to the base oil and heated gently over many hours (and days) in specially designed containers to allow the moisture content to evaporate. When the desired consistency, appearance and fragranceis reached, the decoction is filtered and stored.
CURATED FOR PITTA BALANCE TYPE
Ayurveda says the human body is made up of Earth, Water, Fire, Air and Ether. Though every element is present in the body, the domination of certain elements determines the Dosha of an individual – namely Vata, Pitta and Kapha.

Fire & Earth combine for a passionate personality and determined soul. Pitta types tends to be medium build, ambitious, quick-witted and intelligent. Pitta skin tends to be sensitive or combination with congestion in the t-zone. Common skin imbalances are breakouts, redness, inflammation and rosacea. Do you know what is your Dosha? Take Dosha Quiz
FREQUENTLY ASKED QUESTIONS
You can apply it as often as you want. We recommend using our hair oils at least twice a week for best results.
Warm the oil before you use. Do not warm in a microwave as it will lose its potency. Start from the tips to roots. Massage the scalp for a few minutes to boost blood circulation and to let the oil penetrate deep into the roots. Wrap a hot towel for intense hydration therapy.
We reccomend at least an hour. However, you can also leave the oil overnight.