Clear Face Wash
Deep-cleanse and purify your complexion with this anti-oxidant rich, pore-minimising face wash enriched with Activated Charcoal that gets in deep to clear pores, remove built-up oil and dead skin, kill bacteria and prevent breakouts.
CERTIFIED PLANT BASED INGREDIENTS (Ecocert, Cosmos Certified Natural).

PURE AROMATHERAPY - 100% essential oils; no synthetic fragrance.

CONSCIOUS COSMETICS Cruelty-free, ethically sourced, sustainable ingredients.
Exciting Offers
Buy for ₹ 2499 & get extra 5% OFF
Buy for ₹ 3499 & get extra 10% OFF
Buy for ₹ 4999 & get extra 15% OFF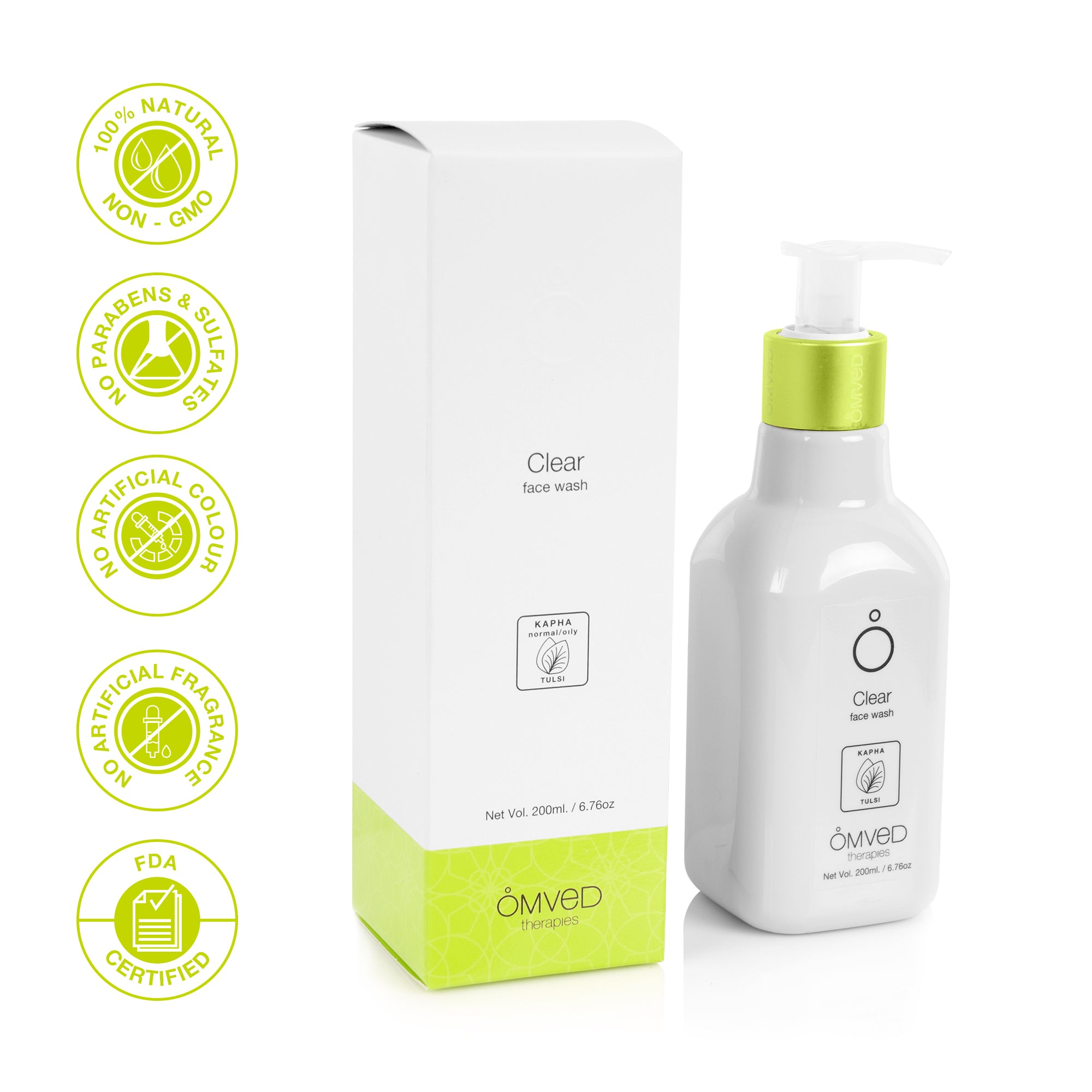 Step 1 : Massage a small amount directly on damp skin in upward circular motion.
Step 2 : Rinse with warm water. Use as the first step in your AM/PM skincare routine. Can also be used for makeup removal.
PRODUCT PHILOSOPHY
Omved face washes follow Ayurveda's prescription of 'effective cleansing' - deep cleanse clogged pores, dirt, dust and pollutants, gently exfoliate dead cells and toxins, nourish the skin by delivering protein rich botanicals and visibly rejuvenate and refresh complexions without altering the skin's natural pH. Omved face washes are all-in-one make-up, dirt, dust and grime cleansers made with 100% pure Ayurvedic herbs, roots and flower extracts and fortified with bio-science skin enhancers like hyaluronic acid, charcoal and proteins to hydrate, detoxify, or exfoliate.
CURATED FOR KAPHA BALANCE TYPE
Ayurveda says the human body is made up of Earth, Water, Fire, Air and Ether. Though every element is present in the body, the domination of certain elements determines the Dosha of an individual – namely Vata, Pitta and Kapha.

Water and Earth energies dominate in these calm, sweet and loyal souls. Kapha types tend to be medium to large build with skin that is often smooth, oily and cool with larger pores. When out of balance they can become slow and sluggish, tending towoards being overweight. Skin as a result can lead to blocked pores and excessive oil. Common skin imbalances are cystic acne around mouth, excessive oiliness and blackheads. Do you know what is your Dosha? Take Dosha Quiz
FREQUENTLY ASKED QUESTIONS
We suggest that you can include it in your AM/PM routine.
Our face washes are 100% soap-free facewashes with coconut-derived cleansers that offer a pH balanced cleanse, leaving skin nourished, soft and more radiant. They are free from SLS and that is why they lather really less.
All our products are free from parabens, sulfates, silicones, petrochemicals, glycols, phthalates, synthetic colours or perfumes.
Good Quality Face Wash
The facewash deep cleanse and purify complexion and is enriched with Activated Carbon. The facewash feels natural and is not harsh on the skin. It gives out a nice and natural glowing skin. The facewash does not give much lather but is good to use. The dispensing is also really nice.
One of my favorite. ??
Using this facewash for few months now and absolutely love it. Comes in a small, cute pump packaging. Travel friendly. Smells a lot like teatree and minty tulsi, the facewash is black in color, the texture is bit liquid and gel like, it's really cooling and mild in nature, post wash the skin looks energised and fresh. I will recommend if you are looking for good facewash. Highly recommended for oily skin Beauty.