Hydrate Face Wash
This naturally sudsing, sulfate-free gel cleanser removes makeup, oil and dirt build up while also deeply nourishing with triple moisture-magnets; Hyaluronic acid, Bio saccharide and Glycerin.
CERTIFIED PLANT BASED INGREDIENTS (Ecocert, Cosmos Certified Natural).

PURE AROMATHERAPY - 100% essential oils; no synthetic fragrance.

CONSCIOUS COSMETICS Cruelty-free, ethically sourced, sustainable ingredients
Exciting Offers
Buy for ₹ 2499 & get extra 5% OFF
Buy for ₹ 3499 & get extra 10% OFF
Buy for ₹ 4999 & get extra 15% OFF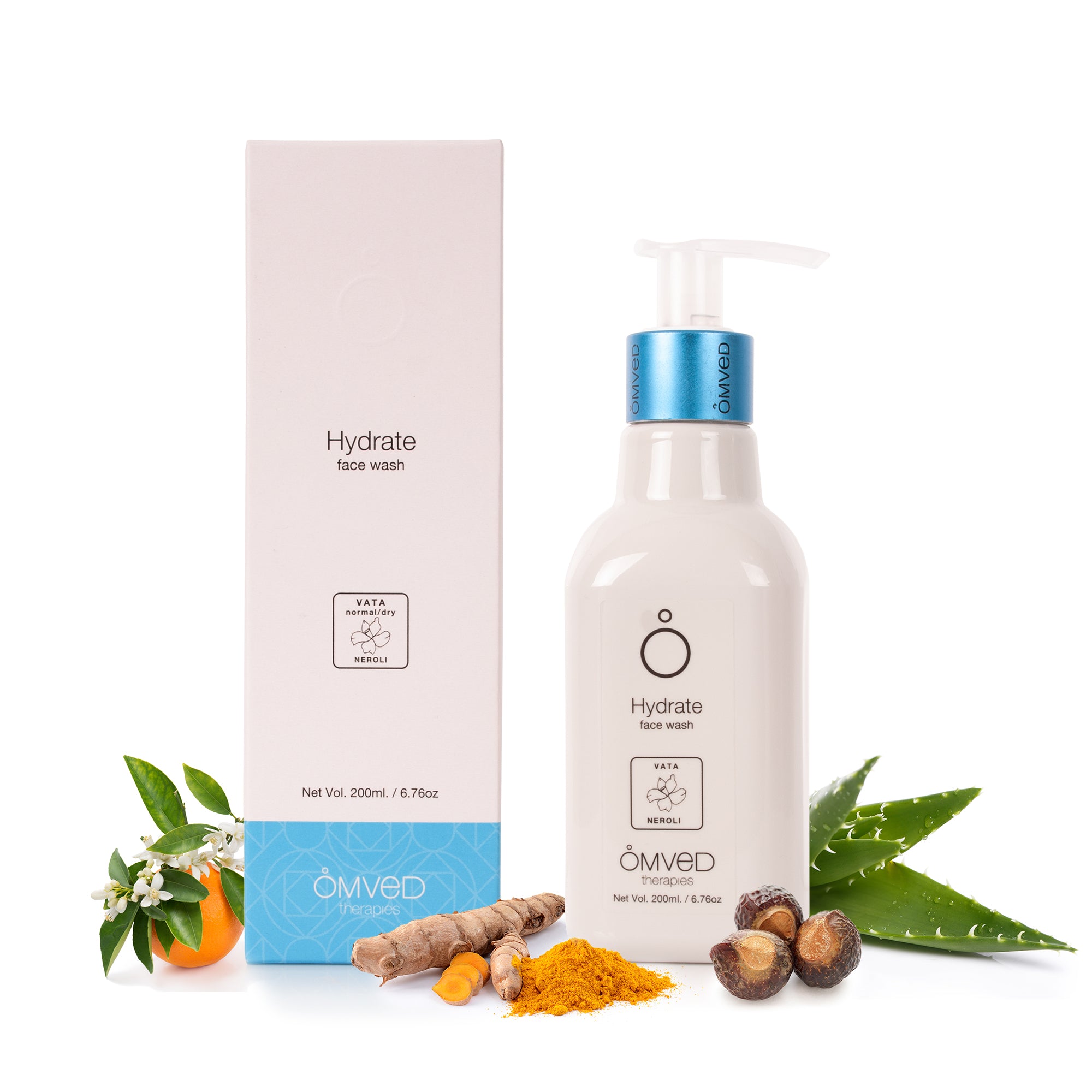 Step 1 : Massage a small amount directly on damp skin in upward circular motion.
Step 2 : Rinse with warm water.
Tip: Use as the first step in your AM/PM skincare routine. Can also be used for makeup removal.
PRODUCT PHILOSOPHY
Omved face washes follow Ayurveda's prescription of 'effective cleansing' - deep cleanse clogged pores, dirt, dust and pollutants, gently exfoliate dead cells and toxins, nourish the skin by delivering protein rich botanicals and visibly rejuvenate and refresh complexions without altering the skin's natural pH. Omved face washes are all-in-one make-up, dirt, dust and grime cleansers made with 100% pure Ayurvedic herbs, roots and flower extracts and fortified with bio-science skin enhancers like hyaluronic acid, charcoal and proteins to hydrate, detoxify, or exfoliate.
CURATED FOR VATA BALANCE TYPE
Ayurveda says the human body is made up of Earth, Water, Fire, Air and Ether. Though every element is present in the body, the domination of certain elements determines the Dosha of an individual – namely Vata, Pitta and Kapha.

Understanding the wind, explains this combination of Air and Ether. Vata types tend to be slim, creative and full of vitality, signifying energy and movement. The dosha that is most likely to fall out of balance. Vata skin can become dry, dull and lack-lustre. Common skin imbalances are premature ageing, dehydration, fine lines and wrinkles. Do you know what is your Dosha? Take Dosha Quiz
FREQUENTLY ASKED QUESTIONS
We suggest that you can include it in your AM/PM routine.
Our face washes are 100% soap-free facewashes with coconut-derived cleansers that offer a pH balanced cleanse, leaving skin nourished, soft and more radiant. They are free from SLS and that is why they lather really less.
All our products are free from parabens, sulfates, silicones, petrochemicals, glycols, phthalates, synthetic colours or perfumes.
Very prompt delivery.
I am satisfied with the services of Amazon. So far I have no complaint.
A good face wash
Good lather nice fragrance moisturisers face well
Fabulous Face Wash
The face wash is doing wonders to my skin... don't feel the skin stretching and love the fragrance..
Highly recommended for dry skin
It really hydrated my skin & I'd say it's the best for dry skin. My face just feels so good & soft afted using this facswaah???
Skin Cleansing regimen
This face wash is so refreshing. It can be used by all ages and leaves the skin feeling so clean and hydrated. Omved products are really doing magic. So pure and natural the ingredients are. With no chemicals this face wash is one of my best buys. It's a lovely bottle too.