Sudyuti Skin Oil
A cure-all for many a skin issue; this unique, potent Ayurvedic formulation seemingly eases everything from dry skin, unwanted scars, stretch marks, uneven skin tone and everything in-between.
100% PLANT BASED, free from toxic chemicals and contaminants

AUTHENTIC AYURVEDA Taila Paka Vidhi preparation method.

GMP CERTIFIED unit processed to ensure complete safety and efficacy.
Exciting Offers
Buy for ₹ 2499 & get extra 5% OFF
Buy for ₹ 3499 & get extra 10% OFF
Buy for ₹ 4999 & get extra 15% OFF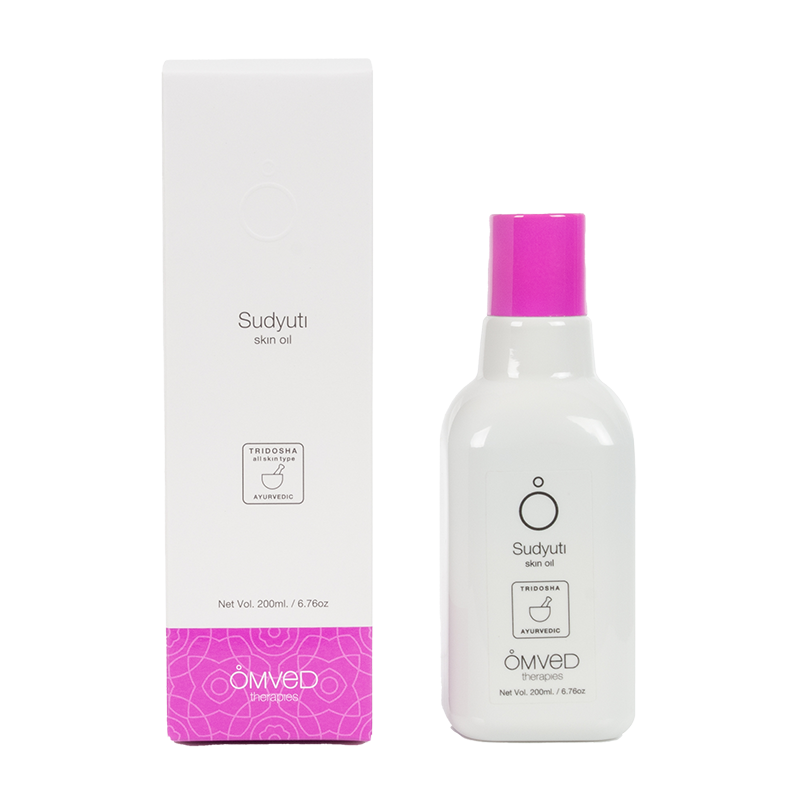 Step1: After cleansing your skin, massage the oil gently till it gets fully absorbed.
Step2: We suggest using the Omved Detox Kansa Wand to let the oils blend into your skin gently.
PRODUCT PHILOSOPHY
Omved oils are prepared using classical Ayurvedic method of "Taila Paka Vidhi" performed under the guidance of Ayurvedic experts. Sudyuti skin oil is a time-tested bend of 10 efficient skin-enhancing herbs, that helps heal skin issues and promotes an even skin tone. The oil ensures deep penetration into the skin layers, and is easily absorbed and hydrating.
CURATED FOR TRIDOSHA BALANCE TYPE
Ayurveda says the human body is made up of Earth, Water, Fire, Air and Ether. Though every element is present in the body, the domination of certain elements determines the Dosha of an individual – namely Vata, Pitta and Kapha. TRIDOSHA is the sum of the three doshas—kapha, pitta and vata—which, according to the ayurvedic construct, orchestrate a person's mental and physiologic functions, including metabolism and mind/body type. Do you know what is your Dosha? Take Dosha Quiz
FREQUENTLY ASKED QUESTIONS
This nourishing blend of anti-ageing classical oils have long been used in Ayurveda to relax the tiredness in skin and add a glow, reduce pigmentation and even skin tone, and reduce the intensity of various skin disorders such as eczema and allergic itching.
It contains Saffron for restoring skin tone along with 25 other potent skin-enhancing herbs like cardamom, cinnamon, snow lotus from the Himalayas in a base of Virgin Coconut oil and Black Sesame oil.
Yes! It's effective against pigmentation and age spots,This Oil soothes sunburnt skin and protects from UV rays. If your pigmentation is genetic, we suggest you consult a dermatologist.
This Oil soothes sunburnt skin and protects from UV rays.
Fabulous...... Product.....
Can I use this inter body and face also.
Fabulous product..... I must say.....
Good product.
Meets the purpose. Can use while doing face yoga.
Skin enhancing oil
This skin enhancing oil is truly a miracle oil if used regularly. I have freckles, hyperpigmentation and an uneven skin tone. I would apply this oil and massage my face with the oil, using a gua sha regularly to let the oil soak in. After an hour, I would use the Nagarmotha skin mask to let the excess oil soak in and the mask would act as a gentle exfoliating agent to buff away the dead cells and reveal rejuvenated skin. Please do not expect results overnight. I have used this oil for almost a year now for results to show.