Skin Nagarmotha Mask
This superfood organic mask is a jar of pure radiance. 13 prized Ayurvedic herbal actives target signs of dullness and fatigue to restore radiance and boost blood flow, leaving your face feeling soft and looking luminous.
100% PLANT BASED, free from toxic chemicals and contaminants.

AUTHENTIC AYURVEDA - Researched and tested formulation containg 13 prized botanicals.

CONSCIOUS COSMETICS Cruelty-free, ethically sourced, sustainable ingredients
Exciting Offers
Buy for ₹ 2499 & get extra 5% OFF
Buy for ₹ 3499 & get extra 10% OFF
Buy for ₹ 4999 & get extra 15% OFF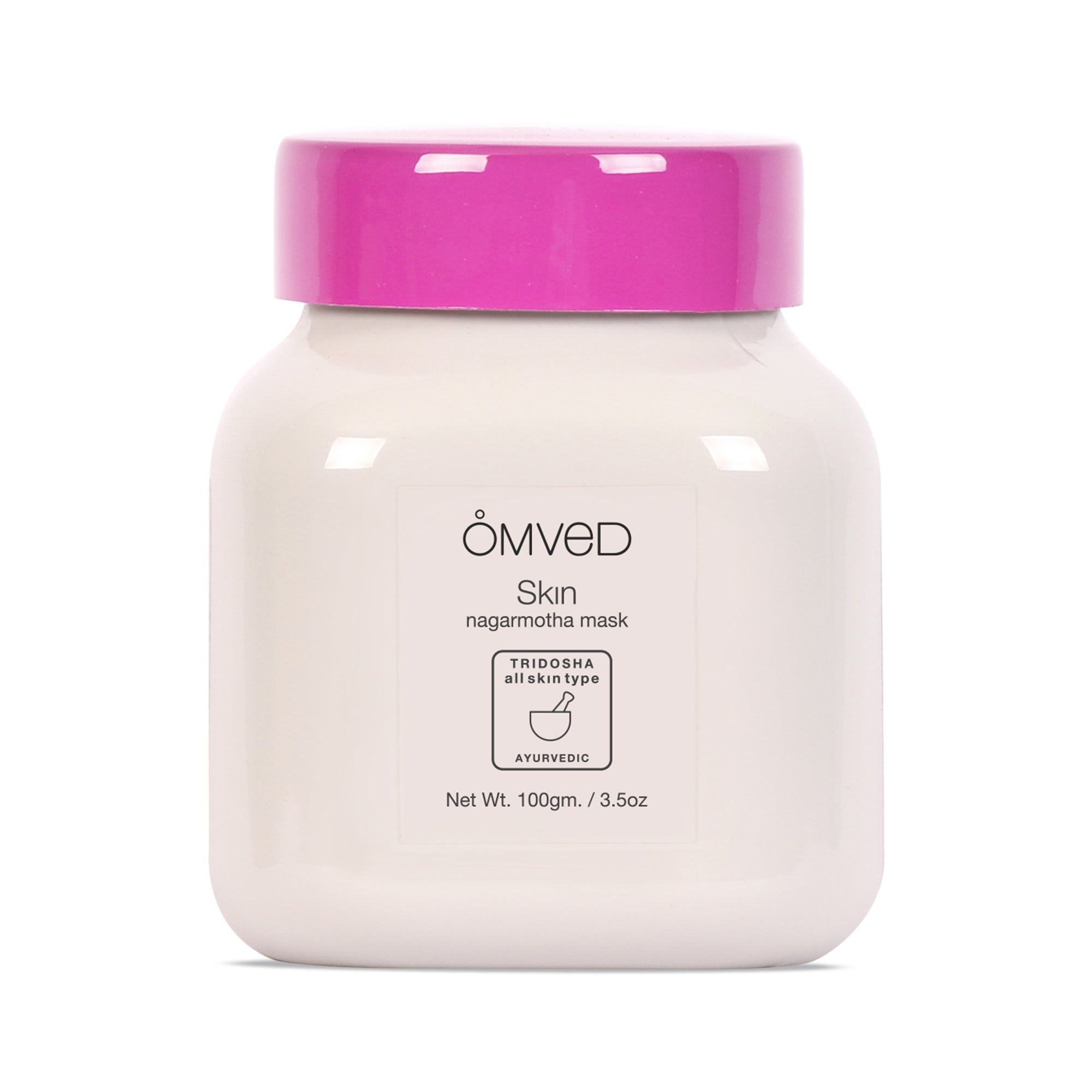 Step 1: Blend with water or Rose water and let soak for 10 - 15 minutes.

Step 2 : Apply a thick layer to clean damp skin; avoiding eye contours. Remove before mask fully dries and "crackles."

Step 3 : Rinse out with lukewarm water and pat dry.

Step 4 : Follow with Omved Sudyuti face oil or any Omved moisturiser.
PRODUCT PHILOSOPHY
Omved Ayurvedic masks are your at home spa remedy delivering 4 potent results; detoxification, exfoliation, brightening and firmness. Carefully chosen and uniquely processed, fresh, hand-pounded and sun-dried herbs, lentils, grains, earth minerals and fruit extracts nourish, relax and purify the skin inside out. Application of a natural clay based face pack has been part of the Ayurvedic beauty regime in India for thousands of years, with the promise to turn your dream of flawless skin into a reality.
CURATED FOR TRIDOSHA BALANCE TYPE
Ayurveda says the human body is made up of Earth, Water, Fire, Air and Ether. Though every element is present in the body, the domination of certain elements determines the Dosha of an individual – namely Vata, Pitta and Kapha. TRIDOSHA is the sum of the three doshas—kapha, pitta and vata—which, according to the ayurvedic construct, orchestrate a person's mental and physiologic functions, including metabolism and mind/body type. Do you know what is your Dosha? Take Dosha Quiz
FREQUENTLY ASKED QUESTIONS
You can apply it twice a week.
We suggest that you dab a bit of our face moisturiser to keep your skin hydrated post use.
Yes, mix a bit of rose water or milk and make it into a runny consistence. Apply a thin layer on your face and massage in circular motion to exfoliate dead skin and slog away all impurities. Wash off with luke warm water and apply a moisturiser if your skin feels very dry.
Face turned red
I made a paste of this with rose water and curd n kept it for 15 mins. After washing my face has turned red. Is that normal?
Hi Kamalika,
As it already contains essential herbs, try not to add any more ingredients. Apply after blending with water or rosewater and soaking for 10 to 15 minutes. Pat dry after rinsing with cool water. If you have sensitive skin, reapply rose water.
As expected
Got at such a cheap rate! Loved it! Will order after finishing the product