Organic Coconut Extra-Virgin Oil
A power station of anti-oxidants, vitamins and fatty acids, Coconut oil is a beauty cure-all; from dry skin and hair, cellulite and blemishes to wrinkles and fine lines Omved's Organic Extra Virgin Coconut oil is pure therapeutic-grade and cold-press extracted for maximum nutrition.
100% vegan and cruelty-free. No hydrogenation, fragrance, fillers, additive, preservative or colorant

100% pure, unbleached and produced by cold-pressing coconut milk (not from khopra) and extracting the oil from it

Safe for oral intake, cooking and oil-pulling
Exciting Offers
Buy for ₹ 2499 & get extra 5% OFF
Buy for ₹ 3499 & get extra 10% OFF
Buy for ₹ 4999 & get extra 15% OFF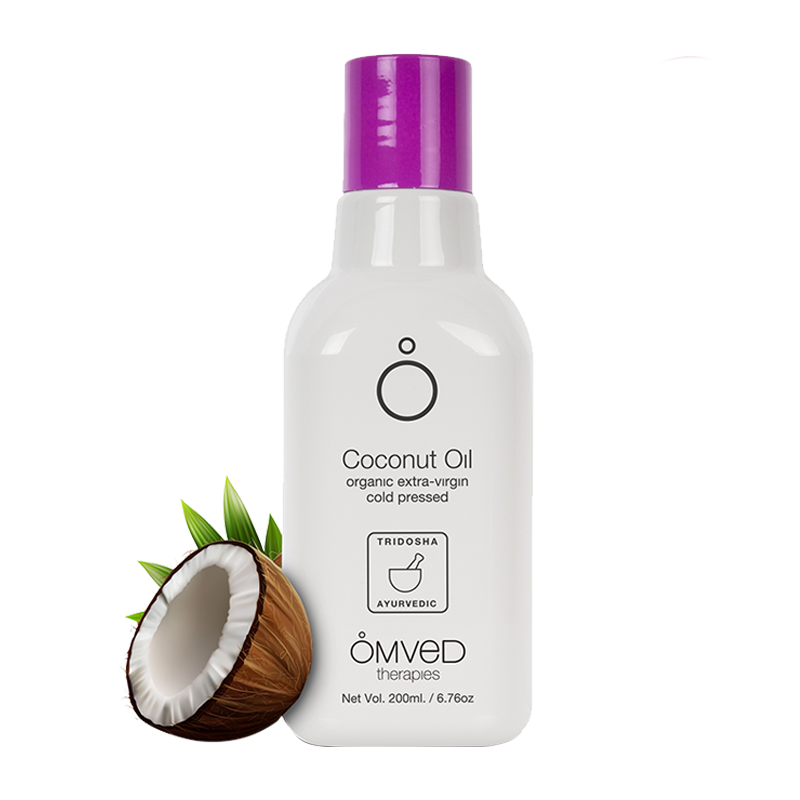 For topical applications:
Massage Coconut Oil on the area you wish to nourish and treat.
On face & body:
For intense moisturising, to treat blemish, wrinkles, pigmentations, stretchmarks, scars, chapped lips, brittle nails and dry under eye contours.
As a hair growth mask or to treat a troubled, itching scalp:
Use our Coconut Oil as a pre-shampoo hair + scalp mask.
As a massage oil:
Use pure or blend with Omved essential oils - In Ayurveda, due to Pitta Vruddhi, coconut oil is used to ease the pain in arthritis. It improves the ability to absorb calcium and magnesium in the bones.
PRODUCT PHILOSOPHY
Omved's Organic Cold Pressed Virgin Coconut Oil is extracted from fresh grated Cocount milk to procure the richest extract. The creamy flesh of the coconut is separated through a meticulous series of centrifuges at low temperatures and then the distillation of oil follows according to Ayurvedic methods by retaining all nutrients, vitamins and minerals.Omved's Cold-pressed Virgin base oils have been a part of Ayurvedic beauty and wellness regimes since millenia. Owing to their rich nutrients, fatty acids, vitamins and mineral content, these oils soothe, soften, and repair skin and hair enhancing your natural beauty. 100% pure therapeutic-grade; cold-press extracted and minimally processed to retain the oil's nutrients and its superior quality.
CURATED FOR TRIDOSHA BALANCE TYPE
Ayurveda says the human body is made up of Earth, Water, Fire, Air and Ether. Though every element is present in the body, the domination of certain elements determines the Dosha of an individual – namely Vata, Pitta and Kapha. TRIDOSHA is the sum of the three doshas—kapha, pitta and vata—which, according to the ayurvedic construct, orchestrate a person's mental and physiologic functions, including metabolism and mind/body type. Do you know what is your Dosha? Take Dosha Quiz
FREQUENTLY ASKED QUESTIONS
Yes, it is safe to use the coconut oil for a body/hair massage. You can also add a few drops of our pure essential oils for an intense aromatic experience.
Yes, coconut oil is one of the preferred oiils for oil-pulling and it is safe to use.
Nice
The fragrance of this oil is lasting and soothing
Simply awesome
This oil has become my daily routine
Worth the money
coconut oil does the work