Soothe Shampoo
Plant derived alpha-hydroxy acid (AHA), Hyaluronic acid and antiseptic botanicals with coconut derived cleansers, balance sebum levels and effectively fight dandruff, scalp dryness and soothe irritation.
99%+ Naturally Derived (From plants non-petroleum minerals or water)

Ecocert and Cosmos certified natural Ingredients

No sulphates, parabens, glycols or silicones
Exciting Offers
Buy for ₹ 2499 & get extra 5% OFF
Buy for ₹ 3499 & get extra 10% OFF
Buy for ₹ 4999 & get extra 15% OFF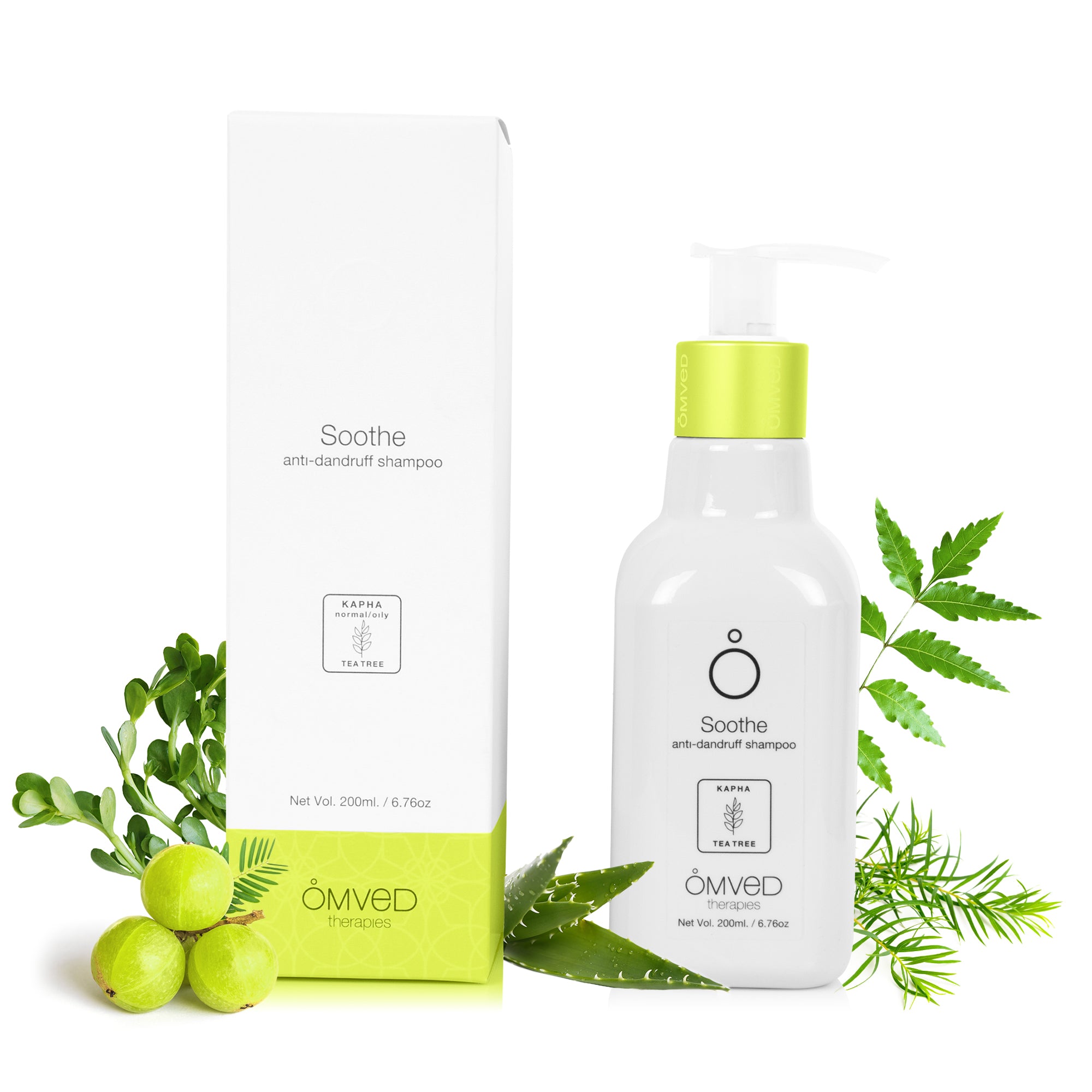 Step 1: Massage into wet hair and scalp for 1-2 minutes and work into a gentle lather.
Step 2: Rinse and repeat if desired. Follow with Omved conditioner. (*Due to natural plant-based cleansers, the lather will be gentler than commercial chemical shampoos).
Tip: For deeper hydration, pre-treat hair with Sukeshant hair oil and once a week use Sulom Hair Mask.
PRODUCT PHILOSOPHY
Say "Goodbye" to dandruff and dry, itchy scalp with Omved's Soothe Shampoo. Enriched with natural plant-derived botanicals and the goodness of 100% pure, organic Tea tree essential oil, it gently cleans and soothes flaky, irritated scalp. This ultra-nourishing and hydrating formulation, roots-out dandruff and reduces stress-related hair loss thereby adding natural shine, body, and bounce to the hair.
CURATED FOR KAPHA BALANCE TYPE
Ayurveda says the human body is made up of Earth, Water, Fire, Air and Ether. Though every element is present in the body, the domination of certain elements determines the Dosha of an individual – namely Vata, Pitta and Kapha.

Water and Earth energies dominate in these calm, sweet and loyal souls. Kapha types tend to be medium to large build with skin that is often smooth, oily and cool with larger pores. When out of balance they can become slow and sluggish, tending towoards being overweight. Skin as a result can lead to blocked pores and excessive oil. Common skin imbalances are cystic acne around mouth, excessive oiliness and blackheads. Do you know what is your Dosha? Take Dosha Quiz
FREQUENTLY ASKED QUESTIONS
It is a misconception that shampoos that lather really well clean your hair effectively. Most shampoos contain ingredients that are not good for your hair causing it to damage it further. Many shampoos rely on inexpensive, petro chemically derived detergents such as sodium lauryl/laurethsulfate, olefin sulfonate and cocamidopropyl betaine for their foam-building properties. These chemicals can dry out the hair and scalp, and may cause allergic reactions as well as environmental problems. Omved's shampoos are made with natural cleansing agents like Areetha and Soap Nuts (naturalsaponins), which clean the hair effectively with a quick, modest lather. Since our shampoos are so mild, they can also be used for coloured or treated hair.
Not every hair type will need a conditioner. For most people with dry or chemically treated hair, using a conditioner is important because it keeps the hair and scalp hydrated, balances the oil content, restores elasticity and strength to the hair, and detangles(to avoid breakage). If your hair is oily or fine, a conditioner used on the ends of the hair to detangle and smooth frizz is all you'll need. Our conditioner for all hair types is our lightest conditioning product, designed to leave scalp tingly-clean and build body and shine without weighing down the hair.
Yes, are shampoos are super gentle on the hair and can be used every day .
is a lifesaver
Omved Shampoo is a lifesaver for my itchy, irritated scalp.
reduction in dandruff and flakiness
I've noticed a significant reduction in dandruff and flakiness since using Soothe Shampoo.
love the scent
Love the refreshing scent and how clean my hair feels after using this shampoo
eco friendly and sustainable
I appreciate the eco-friendly packaging and commitment to sustainable, cruelty-free ingredient
perfect solution for anyone looking for vegan and cruelty free shampoo
Omved Shampoo is the perfect solution for anyone looking for a vegan and sulphate free. I have been using it for years now.