Sukeshant Hair Oil
A potent blend of herbs in this hair oil prevents dandruff and scalp infections. It naturally conditions to control itchiness, flakiness and dryness and removes excess sebum from scalp. Regular use helps to maintain pH balance and soothe and refresh the scalp.
100% Organic ingredients, Vegan and Cruelty-free.

Ayurvedic preparation made by Taila Paka Vidhi method.

No parabens, silicone, hexane or mineral oils.
Exciting Offers
Buy for ₹ 2499 & get extra 5% OFF
Buy for ₹ 3499 & get extra 10% OFF
Buy for ₹ 4999 & get extra 15% OFF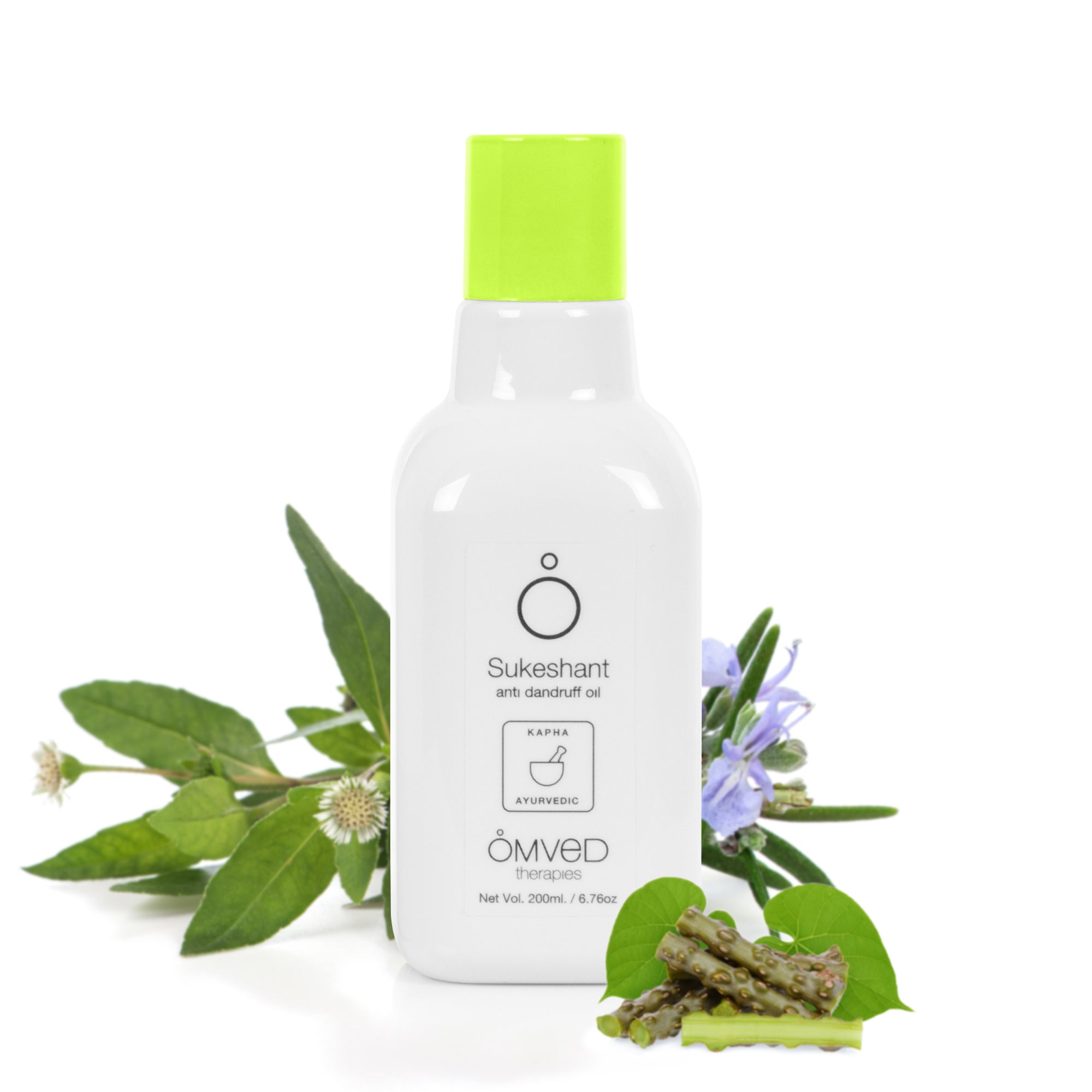 Step 1: Warm a small quantity of oil using the double boiler technique.
Step 2: Gently massage into hair starting from the scalp to ends of hair.
Step 3: Leave (preferably wrapped with hot towel) for atleast 20 minutes. May also be left on overnight if desired.
Step 4: Cleanse post-treatment with your favourite Omved shampoo and warm water. Follow up with a conditioner if required.
PRODUCT PHILOSOPHY
Omved oils are prepared using classical Ayurvedic method of "Taila Paka Vidhi" under the guidance of Ayurvedic experts. Our oils are made from naturally derived ingredients and can be used to tackle many hair concerns; right from premature greying, aloepecia, hair-fall, itchy scalp, dandruff and more.
CURATED FOR KAPHA BALANCE TYPE
Ayurveda says the human body is made up of Earth, Water, Fire, Air and Ether. Though every element is present in the body, the domination of certain elements determines the Dosha of an individual – namely Vata, Pitta and Kapha.

Water and Earth energies dominate in these calm, sweet and loyal souls. Kapha types tend to be medium to large build with skin that is often smooth, oily and cool with larger pores. When out of balance they can become slow and sluggish, tending towoards being overweight. Skin as a result can lead to blocked pores and excessive oil. Common skin imbalances are cystic acne around mouth, excessive oiliness and blackheads. Do you know what is your Dosha? Take Dosha Quiz
FREQUENTLY ASKED QUESTIONS
You can apply it as often as you want. We recommend using our hair oils at least twice a week for best results.
Warm the oil before you use. Do not warm in a microwave as it will lose its potency. Start from the tips to roots. Massage the scalp for a few minutes to boost blood circulation and to let the oil penetrate deep into the roots. Wrap a hot towel for intense hydration therapy.
We reccomend at least an hour. However, you can also leave the oil overnight.
Reduces Itching
It is a good oil and helped to control dandruff. Above all it helped me to reduce itching. It is not even sticky.
good oil to get rid of dandruff
ordered thie for very forst time, dandruff is very common issue to all of us and since i used it, i would say its effective after using couple of options, this one proves to be good oil, fragrance is good and above all its vegan oil so no harm to animals, good one to use
Nice product!!!!
I have used many shampoos for getting rid of dandruff but this is the first time I have ordered oil for controlling dandruff. I used this oil and got good results after 2 to 3 applications. It prevents dandruff and scalp infections, naturally conditions to control itchiness, flakiness and dryness and removes excess sebum from scalp. It is bit expensive but I think if any product which gives you good result is worth spending for. It is a vegan ayurvedic formula. It treats the existing dandruff and prevents for the new to develop. Keeps the sebum level of scalp under check.
Happy with the results
Rainy season brings a lot of hair issues one of which is dandruff. After trying different shampoos, thought of trying some oils and was suggested omved oil from a friend. I have used it only twice since I got it, but am quite pleased with the results. The flaking has reduced after each use and am quite sure that with further use the dandruff will be better controlled. It has a very light texture and pleasing smell. So far I am happy with the results.
best product for dandruff
I ordered this product about weeks ago.. and start using from the day it delievered.. and today and i can say m dandruff free.. i used many products but thus product gave me the best result in few days .. i recommend to all.