Atulya Lemongrass Soap
Powerful anti-oxidant Lemongrass and Sage protect skin from the damaging effects of pollution & environmental stress, leaving it fresh, hydrated and energised.
PURE AROMATHERAPY - 100% essential oils; no synthetic fragrance.

TRIPLE OIL BASE - no detergent, no animal fat.

FRESH - Small-batch, handmade, rich in natural glycerin.
Exciting Offers
Buy for ₹ 2499 & get extra 5% OFF
Buy for ₹ 3499 & get extra 10% OFF
Buy for ₹ 4999 & get extra 15% OFF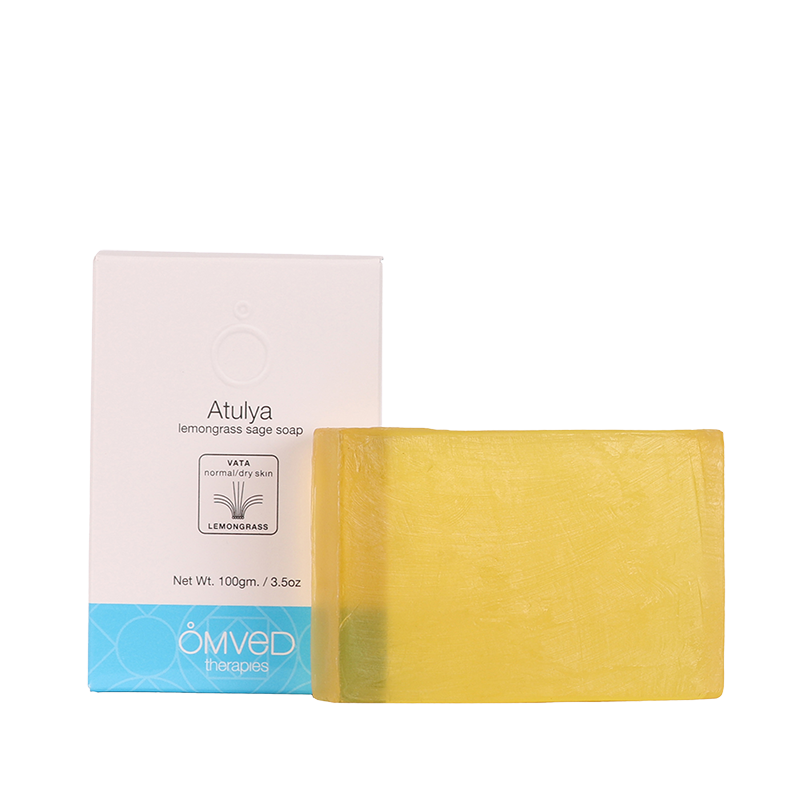 Step1:&nbsp Apply from face to feet. •
Step2:&nbsp Use Omved's Vetiver Scrub to make extra foam.
Tip:&nbspTake cooler showers for better lather and less product usage.
PRODUCT PHILOSOPHY
Our artisanal handcrafted soaps are a result of a unique blend of skin enhancing natural ingredients, a traditional cold processed soap-making method that preserves the natural goodness and pure aromatic essential oils. The result - soap bars that are creamier, luxurious, powerfully natural and irresistibly aromatic.
CURATED FOR VATA BALANCE TYPE
Ayurveda says the human body is made up of Earth, Water, Fire, Air and Ether. Though every element is present in the body, the domination of certain elements determines the Dosha of an individual – namely Vata, Pitta and Kapha.

Understanding the wind, explains this combination of Air and Ether. Vata types tend to be slim, creative and full of vitality, signifying energy and movement. The dosha that is most likely to fall out of balance. Vata skin can become dry, dull and lack-lustre. Common skin imbalances are premature ageing, dehydration, fine lines and wrinkles. Do you know what is your Dosha? Take Dosha Quiz
FREQUENTLY ASKED QUESTIONS
All our products are vegan.
Keep the soap in a dry area in your bathroom for it to last longer.
We always suggest a patch test before you use any of our products. Apply on the inner side of the elbow. If you face any irritation, please discontinue using the product.
We use only therapeutic grade essential oils in our products that are safe for you.
A good purchase.
It's a good soap, has good fragrance and the skin also feels smoother after use.