Kamalika Lotus Soap
The deeply aromatic fragrance of Indian Lotus with its exquisite skin-rejuvenating properties leaves your skin bright, beautiful and fragrant. Truly an all – purpose bathbar.
PURE AROMATHERAPY - 100% essential oils; no synthetic fragrance.

TRIPLE OIL BASE - no detergent, no animal fat.

FRESH - Small-batch, handmade, rich in natural glycerin.
Exciting Offers
Buy for ₹ 2499 & get extra 5% OFF
Buy for ₹ 3499 & get extra 10% OFF
Buy for ₹ 4999 & get extra 15% OFF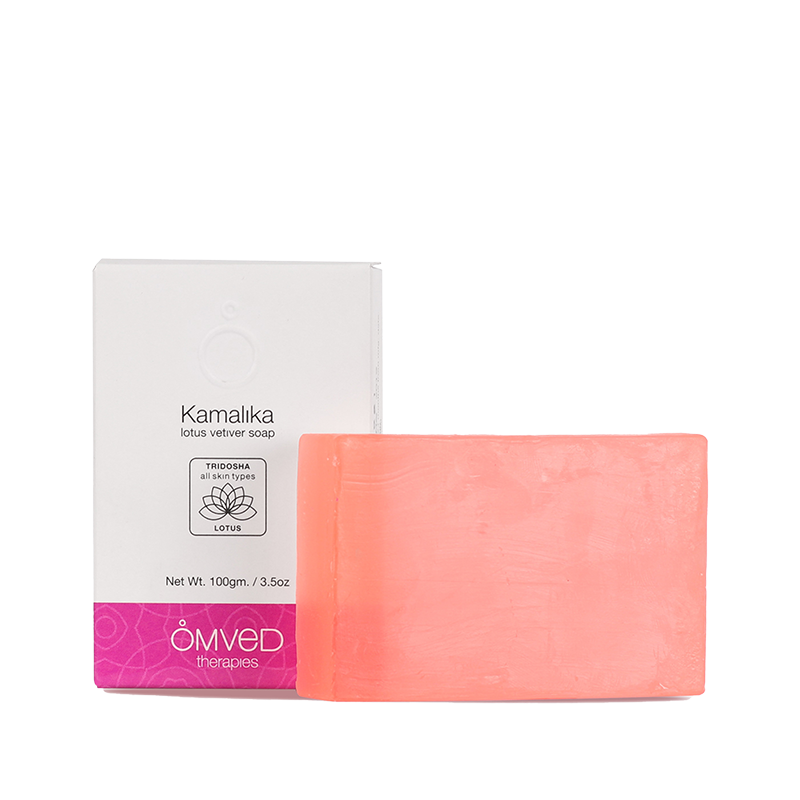 Step1: Apply from face to feet.
Step2: Use Omved's Vetiver Scrub to make extra foam.
Tip - Take cooler showers for better lather and less product usage.
PRODUCT PHILOSOPHY
Our artisanal handcrafted soaps are a result of a unique blend of skin enhancing natural ingredients, a traditional cold processed soap-making method that preserves the natural goodness and pure aromatic essential oils. The result - soap bars that are creamier, luxurious, powerfully natural and irresistibly aromatic.
CURATED FOR TRIDOSHA BALANCE TYPE
Ayurveda says the human body is made up of Earth, Water, Fire, Air and Ether. Though every element is present in the body, the domination of certain elements determines the Dosha of an individual – namely Vata, Pitta and Kapha. TRIDOSHA is the sum of the three doshas—kapha, pitta and vata—which, according to the ayurvedic construct, orchestrate a person's mental and physiologic functions, including metabolism and mind/body type. Do you know what is your Dosha? Take Dosha Quiz
FREQUENTLY ASKED QUESTIONS
All our products are vegan.
Keep the soap in a dry area in your bathroom for it to last longer.
We always suggest a patch test before you use any of our products. Apply on the inner side of the elbow. If you face any irritation, please discontinue using the product.
We use only therapeutic grade essential oils in our products that are safe for you.
Made with Natural ingredients
It is made of natural ingredient such as vetiver, aloevera gel which helps in skin regeneration and keep the skin firm, pulp and young
Loved it!
I actually loved the soap..when i bought it off amazon and now its not available there. I would have loved to purchase it here, but seeing the review, I am apprehensive if I would receive old stock. So i guess i am just going to have to wait for it to be available on amazon again.
multi purpose soap
It is multi purpose soap. It is anti bacterial free and moisturise the skin